Report from the Trophy of Nations
Trophy of Nations report by Team Manager Al Redmond.
The Trophy of Nations is the last race of on the Enduro World Series (EWS) calendar and took place in Finale Ligure in Italy on 1-2 October 2022. It is the only Team event on the enduro calendar but there are other races throughout the weekend too.
There is the Solo Trophy (Single Riders), Industry Trophy (Teams of 3 form a team representing their brand), and finally the Trophy of Nations where 3 riders represent their country. The Cycling Ireland Off-road Commission supported riders on the Elite and U21 teams and also Female Elite and Female U21 solo riders.

The Irish competing were as follows
Elites Male – Trophy of Nations
Greg Callaghan
Kelan Grant
Gary Donaldson
Dan Wolfe – Reserve rider (Dan raced Industry Trophy as he wasn't required)
U21 Male – Trophy of Nations
Ben Wilson
Brendan Conroy
Shane O'Sullivan
Jake White – Reserve rider (Jake raced Solo Trophy as he wasn't required)
U21 Female – Solo Trophy
Hannah Mullin
Elite Female – Solo Trophy
Niamh McKiverigan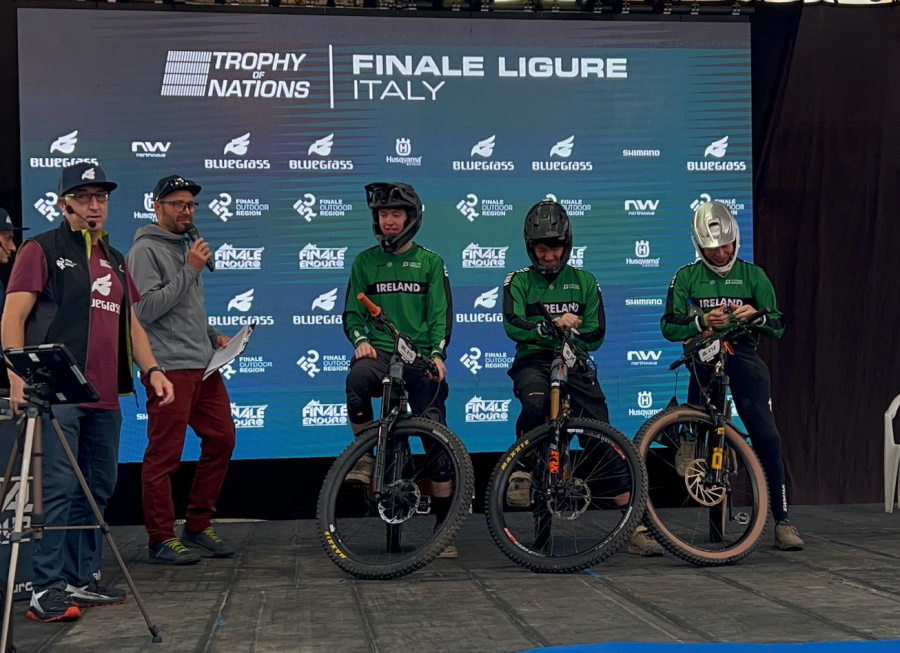 We set out for race week from Dublin airport on Tuesday afternoon. Landing in Nice at about 21:00. Glad to see all the bags and bikes arrived.
Our outward travelling party consisted of Ben, Shane, Jake and Niamh. Hannah, Brendan, Greg and Kelan were already there after competing at Loudenville and Gary, after Trans Madeira (he came 3rd!!). There was a bit of hassle when we collected the 9 seater van. We found two extra stragglers (Beefy and co!!!) that had missed a connecting train to Finale. What was a tight squeeze turned in to a tighter squeeze but we arrived in to Finale approx midnight and we're greeted by Djouceman (Brendan) who showed us to our Air BnB and explained the house rules!!
Next morning we built up all bikes and removed some seats from the minivan and I gave the riders experience of shuttles in Finale! They did two full runs down from Base NATO. It took approx. 35 minutes to shuttle up!!
We followed the session with a swim in the sea! Glorious.
Thursday was more of the same. Shuttles to Base NATO and followed by a swim
Friday was official practice.
Those riding the Solo Trophy started on stage 1 while the teams started on Stage 3.
This was a serious eye opener for everyone and brought some anxiety for what lay ahead, especially as solo riders were racing the next day!
Parade
There was a Trophy of Nations Parade on Friday evening after practice. There was a local marching band and all the nations paraded around the town. We let Hannah carry the IRL banner as she was the youngest!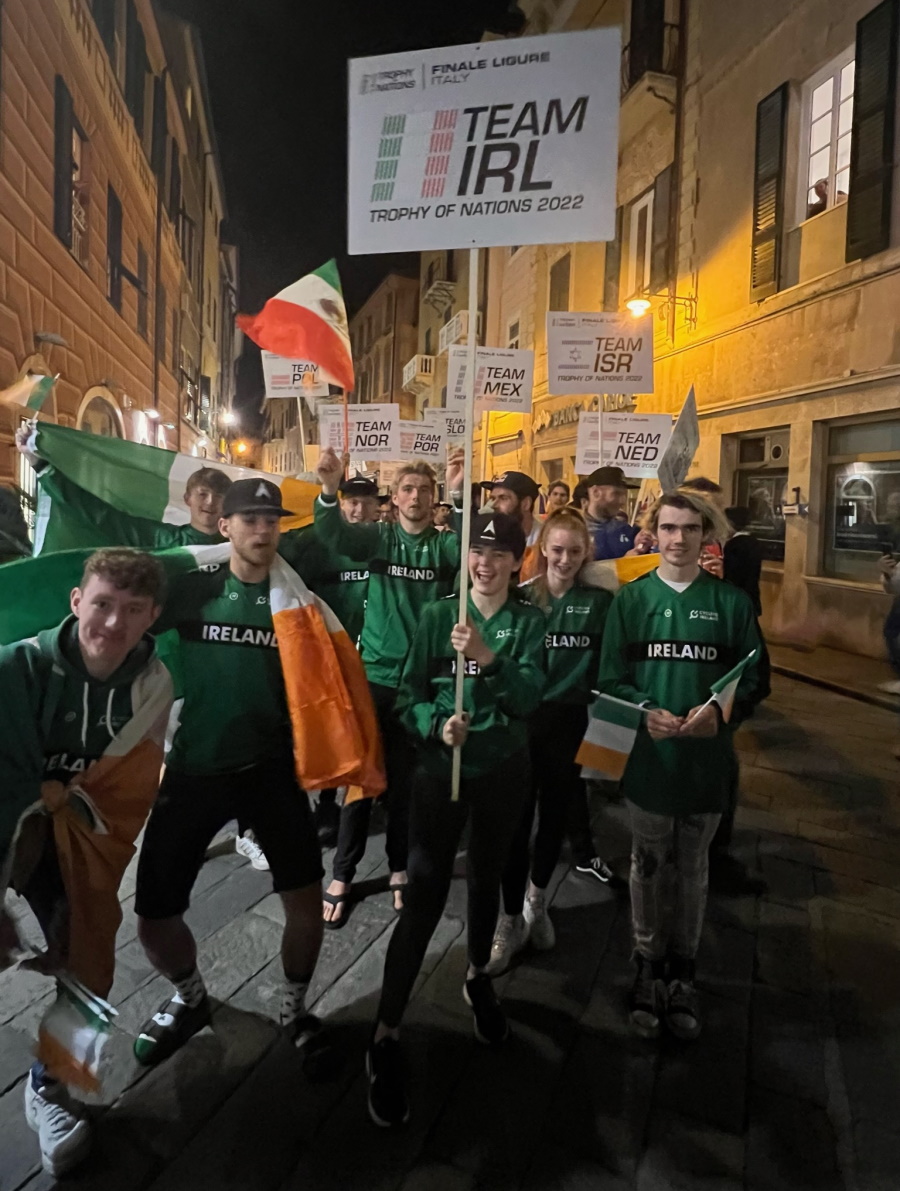 Saturday 1 October – Race Day 1
Jake was off first followed by Hannah and Niamh about 40 minutes later. They got a shuttle from Finale towards Stage 1 but were dropped off with a 60 min approx. climb to the start.
Stage 1 was called "Fast and Furious". 6 km in length with 950 metres of descending.
By all accounts a great stage and all made it down safe. There was a bit of traffic up top which delayed Jake a bit and as a result he got held up on the stage, having to navigate past some riders. The liaison to stage 2 was a humdinger, almost 2 hours of pedalling!
Stage 2 "Megaroller". 7.3 km long and 850 metres of descending. The longest stage of the course. Jake and Niamh made it down safely but Hannah got delayed behind a crash and was told to stop by the First Aiders. She was able to navigate around but this cost her time.
Stage 3 "Finalborgo". 908 metres long and 135 metres of descending. The shortest stage.
Jake and Hannah got this one clean but Niamh had an OTB and looked to be in pain at the end of it. She bravely jumped on to final transition and "walked it off"
Stage 5 (solo trophy skipped stage 4)
A gruelling 14 km transition from the end of Stage 3 with 400 metres of climbing. Stage 5 is the Men's Downhill 2.35 km and 285 metres of descending. Jake had a lovely smooth run while Niamh nursed herself down the gruelling steeps. Hannah punctured and rode a good chunk of it on a flat.
There was then a 5 km liaison back to race village to hand in time chips. I was super proud of the guys.
Hannah 2nd place in U21 Women
Jake 21st in a really strong field U21 Men
Niamh 16th in Elite Women.
Results here
Other notable results!
Paul McLoughlin was 1st In Masters 45+.
Dan Wolfe / Ross Ennis 2nd in Industry Trophy with Polygon Factory Racing.
Sunday 2 October 2022 – Trophy of Nations
On Sunday the U21 Men's and Elite Men's Team headed off.
Elite Men's team rode 5 smooth stages and were cheered on by a huge crowd. Smiles all around. They ended up with a really strong 8th place finish.
Unfortunately it wasn't as smooth for the U21s.
Stage 1 went well but disaster struck on 2. Brendan, leading the team down, punctured and dinged his rear rim on the last rock garden and Shane had a fall bending his non drive side crank arm, but luckily still able to ride, by the smallest of margins!
The transition and time limit to get the start of 3 was not in their favour as they had to repair the puncture and get to 3 all within approx 20min. They left end of 2 and raced to 3 but unfortunately were slightly outside the cut off and each member incurred a 5min time penalty.
This did not dampen the spirits as the lads raced on with huge gusto and smiles on their faces. Wearing Ireland flags as capes as they descended down the last stage, much to the delight of the fans that draped the entire stage!
A 13th place finish for the team with the penalties and mishaps is something they will be very proud of.
Results here
Other notable results were for the masters 35+ team of Joe Ward, Beefy Mullan and Michael Cowan who finished with a very respectable 9th place.
By all accounts this was to be the last "Trophy of Nations". 2023 will see an integration into a UCI World Championships. Hopefully we will have an Enduro World Championship alongside XC and DH races. As soon as I know more I will post information on the commission website and social pages. My mission is to make everyone aware of qualification criteria and make sure we are represented at World level. We have the quality of riders across all age groups.
More photos here
Yours in riding.
Al Redmond
Off-road Commission Enduro Representative
enduro@offroadcyclingireland.ie