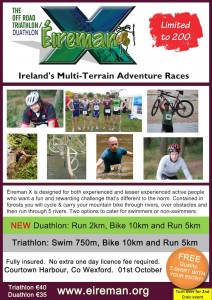 This year's Eireman X takes place on Saturday October 1st in Courtown Co. Wexford with lower entry feeds, an additional race format and finger food for racers afterwards.
In addition to the triathlon there will be a duathlon (run – bike – run) so non-swimmers can take part. There will be a 2km woodland run instead of the swim to begin the race. This is a separate event with it's own prizes. Both race leaders should enter the transition area at the same time which will shake things up for the mtb section. The course is the same as last year – with one surprise on the run.
Thanks to new insurance arrangements no day-licences (or Tri-Ireland memberships) are required. Entry for the triathlon is €40 and the duathlon €35. Entry is limited to 200 riders and is filling up fast.
As the event is on a Saturday there will be an opportunity for riders to meet for a few drinks afterwards. The prizegiving will be in the 19th Pub in Courtown with finger-food laid on.
Check out the Youtube video for a flavour. The film crew didn't make it to the technical mtb sections but we're assured there are plenty of them.