A great event at Rostrevor for Round 1 of the Downhill Series
Kilbroney Forest, Rostrevor, County Down was the venue for Round 1 of the 2022 Irish Downhill Mountain Bike Series. The event, hosted by Rostrevor Mountain Bike Club, was held over the weekend of 2-3 April and had sold out with over 250 riders from across Ireland registered. Saturday was dry but cool with little wind. The morning session, starting from 9 am, was allocated to course practice with the riders making use of the uplift vehicles to get back to the start of the run to keep trying to get the best lines. Saturday afternoon was allocated to a Seeding Run. The Seeding Run determined the race order for Sunday.
Sunday was also dry with some welcome spells of spring sunshine. There was practice again in the morning from 9 am. Practice stopped early due to an accident on site but from 2 pm the actual downhill racing took place with the Juvenile categories starting first. They were followed by Youth, Women, the Masters categories, Sport, Seniors, Junior men then finally the Elite men. There were huge crowds at Heckler's Rock, making lots of noise when the riders went through, but there also people lining the full length of the course.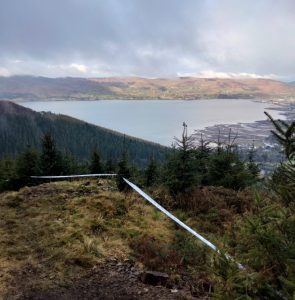 View from start line
The top results are shown below. For a full list click here. A massive thanks to all the volunteers for helping to put on this event. Hoping all those who were injured at the event have speedy and full recoveries.
Juvenile (U14)
1 Darragh Ryan (Biking.ie)
2 Ros Keeffe (Bree Mountain Biking)
3 Paddy Rice (Rostrevor MTB Club)
Youth (U16)
1 Callum Morris (Gortin MTB)
2 Conor Cartwright (GAP MTB)
3 Ruairi Steele (Shimna Wheelers Cycling Club)
Women
1 Leah Maunsell
2 Shannon McAuley
3 Hannah Harvey (Sperrin Mountain Bike Club)
Masters M50
1 Joe Ward (Un-Attached Ulster)
2 Mark Byrne (Bree Mountain Biking)
3 Craig Elliott (Gravity BC)
Masters M40
1 Glyn O Brien (Chain Reaction Cycles)
2 Michael Cowan (Chain Reaction Cycles)
3 Dale Mc Mullan (Chain Reaction Cycles)
Masters M30
1 Seamus Maher
2 Philip Mullan (Sperrin Mountain Bike Club)
3 Laurence Farrington (Borderline DH Club)
Seniors
1 Joel Hamilton (Shimna Wheelers Cycling Club)
2 Jake Kavanagh (Bree Mountain Biking)
3 Ruairi Kernan
Sports
1 Stephen Jenkins (Un-Attached Leinster)
2 Deividas Ravaitis (Un-Attached Leinster)
3 Joey Gillen (Cuchulainn CC)
Junior men
1 Daniel Lappin (Un-Attached Ulster)
2 Max Schone (Bree Mountain Biking)
3 Joe Wilton
Elite men
1 Jacob Dickson (Rostrevor MTB Club)
2 Ronan Dunne (Un-Attached Leinster)
3 Christopher Cumming (Rostrevor Mountain Bike Club)